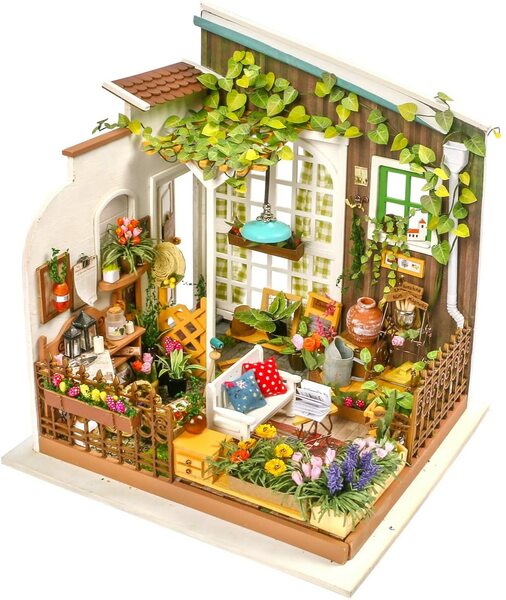 Complete Kits with Build Your Own 1:12 Scale Miniatures, Furniture, LED Lighting, Trims, Paint, Glue and Accessories
Are you a fan of detailed miniature hobby crafts? Or are you in search for the perfect miniature house DIY project? Well, the DIY 3D Wooden Puzzle Miniature Dollhouse Room Craft Kits by Hands Craft are your excellent choice.
These Kits give you a unique opportunity to create your own 1" scale room boxes. Hands Craft ensured all the details you need to make an amazing décor and craft piece – you just need to add your own creative flair.
These Hands Craft dollhouse room kits come with wood, wires, threads, fabric, LED lights and instruction book – everything you need to recreate the remarkable scale miniature room.
Cut, shape, glue, paint ... simply enjoy every second of the crafting process. Remember, the result of your crafting joy is even more enjoyable to behold when your miniature dollhouse room is complete!
We know you'll love every second of the crafting process. Besides cutting, gluing and shaping, you can add your own creative vision on each little part or the overall look. Paint your assembled items in your own color tone & craft something unique! Also, use the LED lights and make your dollhouse shine at night. It's a magical effect.
Crafting and assembling these model kits are something you can be proud of. These bring a tremendous sense of accomplishment and you can show them off to friends and family. These kits are works of art, beautifully designed to allow your own artistic flair in mind.
It's time to create your own stunning miniature dollhouse themed room!